Push Rods - Solid H13 Push Rods
Trend Performance -
Solid H13 Push Rods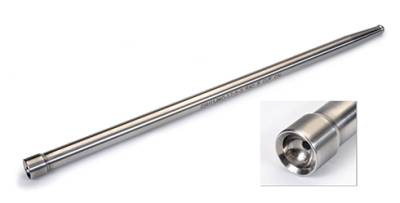 TREND'S PUSHROD FOR TOP FUEL ENGINES AND OTHER APPLICATIONS
To increase the compression strength of their pushrods for Top Fuel and Funny Car race engines, Trend Performance has adopted a premium quality H-13 tool steel. Further, this new solid design is available for all pushrod race engines operating under extreme stresses that do not oil the rocker balls through the pushrods.
Formed from ½-inch solid bar stock and furnished with a 3/8-inch ball on the lifter end, a 3/8-inch cup on the rocker end, and a body diameter ground to 7/16 inch, Trend now makes these new pushrods available in their Quickship program and to any length desired. The aim of Quickship is to despatch goods within 24 hours of receipt of order.
Commonly used in hot-forging dies (where the metal is hot and forged), H-13 is a very tough material and is ideal for parts with critical features. It is heat-treated to a hardness of 54 to 56 Rockwelld then quenched and tempered to relieve the stresses. This process is followed by nitriding and after the nitride process, each pushrod is hand finished before shipment.
This category is empty.