Push Rods - BZ Push Rods
Trend Performance -
BZ Push Rods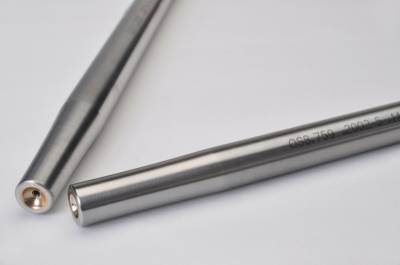 Trend Performance bronze-insert (BZ) one-piece pushrods are prepared specifically for Pro Stock teams, 800 CID Mountain Motor racers, Top Sportsman teams, and large-displacement nitrous engine builders. Further, they are particularly proficient in resolving lubrication troubles around the rocker balls. In addition, BZ pushrods are now available on Trend's 24-hour QuickShip program.
Created from 4130 chrome-molybdenum thick-wall tubes, pre-formed and centerless-ground with a high-load bearing bronze insert, these shelf-stock items are fully heat-treated and available in diameters of 7/16 x .165-inch wall or 1/2 x .200-inch wall or 9/16 x .187-inch wall. On the lifter end they are manufactured with conventional ball-end diameters of 5/16 or 3/8 inch. On the top end, the bronze insert is press-fitted and machined with a .140-inch radius cup—designed to accept the popular 9/32-inch rocker adjuster ball.
This new BZ Series is case hardened to Rockwell Rc60 for extra strength and rigidity and made available in straight form, full single taper, or double taper (tapered from the center to the each end)
To lubricate the upper cup and rocker ball, a thin oil passageway runs through the center of the pushrod allowing pressurized oil to travel from the lifter bore to the rocker.
This category is empty.