Photo Gallery - Powerwheel Races @ Iosco Fair! -
Powerwheel Races @ Iosco Fair!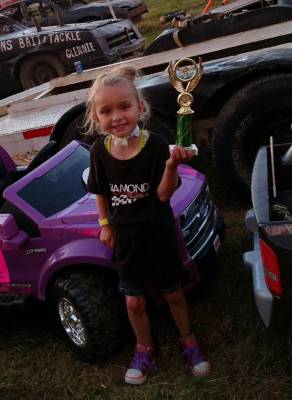 Iosco County Fair, Hail Michigan - 2015
On behalf of everyone here at Trend Performance & Diamond Racing we'd like to give a special shout-out to Sissy & Donavan Short. They came in 3rd & 4th place respectively at the Iosco County Fair Powerwheels races held in Hale Michigan. It is great to see the twins having fun and racing at the local county fairs and representing Diamond Racing everywhere they go! For those that don't know, Sissy was involved in a very serious fire accident 3 years ago and almost lost her life. Three quarters of her body were covered in severe 3rd degree burns after a fire started in the bait & tackle shop her parents owned. Sissy was rushed to the local hospital, but had to be flown to an emergency trauma hospital in the southern portion of the state. While receiving emergency care the doctors decided that only way to save Sissy's life was to use an adult tracheotomy process due to the lack of smaller tracheal tubes being available at the time. Unfortunately that process left Sissy with ruptured vocal cords and unable speak. She has to wear special medical device daily in order to speak and carry out daily functions.
Word traveled and we caught wind of the bad news at a local circle track race and decided to start an emergency fundraiser along with the racers from the community. We were able to gather up enough money to help the family with their finances and Sissy's medical bills. Since then, the Trend and diamond family have followed Sissy and both our families have become very close friends
Sissy is now 6 years old and has to make routine trips down to Cincinnati Ohio to visit a burn specialist. It has been a long a painstaking 3 year recovery, but Sissy is doing well and has been carrying on with her head up and a smile on her face! This little girl is the definition of tough! She is the inspiration for our motivation & determination here at Trend Performance & Diamond Pistons.
---
Reader Comments (1)
Spencer
06/16/2017 08:15PM
It's a good thing to organize such races at the small level for the children. In this way they will get encouraged and become passionate to participate on such activities. Also as per the <a href="http://www.thebestessayshelp.net/">bestessays</a> writing service the children will try even harder for a better position next time.
Post Comment
You must login to post comments.