How to Achieve Valvetrain Supremacy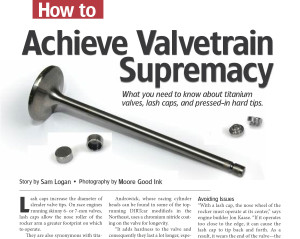 What you need to know about titanium valves, lash caps, and pressed-in hard tips.
Written by Moore Good Ink, Compliments of Speedway Illustrated: Read about this story in the June 2014 issue
Lash caps increase the diameter of slender valve tips. On race engines running skinny 6- or 7-mm valves, lash caps allow the nose roller of the rocker arm a greater footprint on which to operate. They are also synonymous with titanium racing valves (which are prevalent in dirt late models, dirt modifieds, and sprint cars), protecting their vulnerable valve tips from direct rocker contact…
Reader Comments (2)
We are needed this article to achieve valvetrain supremacy trend. The updates you have to read for more essay services writers. Then all the people will learn the interesting facts about the users.
enven
09/04/17 04:01:10 PM
The professional methods and college paper services always for the better topics always with this Writing Elites Affordable Writing blog. I can get more and implementing the quality process and essay topics.
Post Comment
You must login to post comments.