Spin it up!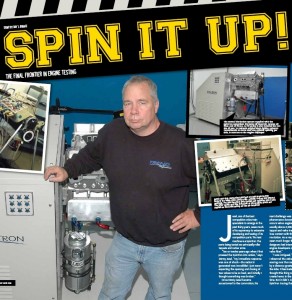 Extreme Action, Issue 106: The final frontier in engine testing
Jesel, one of the best competition valve train specialists to emerge in the past thirty years, owes much of its supremacy to extensive developing and testing of its competition parts. The test machine is a SpinTron. The parts being tested are principally roller tappets and rocker arms. "Ten or twelve years ago when I first pressed the SpinTron into action," says Danny Jesel, "my immediate response was one of shock—the racket it generated was incredible! I just wasn't expecting the opening and closing of two valves to be so loud, and initially I thought something was broken."
Reader Comments (3)
Any user can understood the spin it up article performance. That is a trending topic to write rush essays reviews and assignments. Everyone is getting your basic articles with their informative sources.
enven
08/01/17 10:15:26 AM
All students and institutes for the great and more updates always for the educational concepts I ever seen here. I know about this More Bonuses for great methods and concepts always for the writing methods,keep it up.
I can not wait to visit this site for the more and interesting tips and topics as well as for the essays. All students are using https://helpmewithessays.co great college paper services and more interesting paper tips and topics always,keep it up.
Post Comment
You must login to post comments.