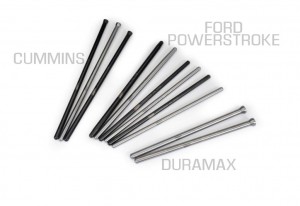 Trend Performance has announced three new series of shelf-stocking pushrods for high performance Cummins, Ford Powerstroke, and GM Duramax diesel engines.
Displaying robust forged cup ends, these are believed to be the first one-piece pushrods to suit Cummins 12v and 24v diesel engines. They are produced from 4130 chrome molybdenum and heat treated to around Rockwell Rc60; their advantage is strength and rigidity. Available in 3/8in diameter with 10mm cup and wall thicknesses of 0.080in or 0.135in., they are designed to handle higher spring pressures and contribute greater resistance to deflection.
For Ford's 6.0L and 6.4L Powerstroke diesels Trend has introduced four new 11/32in pushrods with wall thicknesses of 0.080in and 0.135in. For the larger 7.3L engine, 7/16in diameter with 0.080in wall and 0.165in wall are available. And for GM's Duramax 6.6L diesel engines Trend offers upgraded 7/16in pushrods with 12mm ball and cup ends and 0.080in wall or 0.165in wall.
OEM stock lengths for all three series are now available as shelf-stock items. Custom lengths are dispatched via Trend's 24 to 48hour QuickShip program.
Finally, in common with their other large volume production items, Trend, who offers these new diesel pushrods through their dealer network, concludes they are very competitively priced (see attachment for details).
Update from Trend's new North Carolina facility: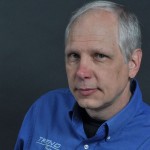 Andy Anderson
Operations Director, Andy Anderson reported, "We're making valve locks. Currently our production is devoted to standard sizes and, so far, we're shipping all orders to our distributors."
The valve locks are produced from 8620 and 4140 alloy steels and in titanium. "The titanium locks," said Anderson, "are more expensive, but any time you can save a gram or two on the valve-side of the rocker arm there always seems to be a demand."
Discussions about establishing a new Trend manufacturing plant in the South began in 2012. By July the Asheville area had been chosen as the location. In August they had purchased a building and by September it had been prepared for purpose. Production began October end. Further plans for 2013 include additional pushrod production.
For further information contact:
Trend Performance
23444 Schoenherr,
Warren, MI 48089
Telephone (586) 447-0400 (Steve Rhodey) or e-mail: SRhodey@TrendPerform.com
For latest offerings, visit www.trendperform.com