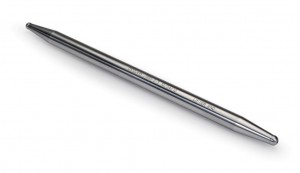 Trend Performance has announced a new series of 5/8in pushrods for competition engines operating under extreme pressures. These include Mountain motors, Pro Mod, Pro Nitrous, Top Sportsman, NHRA Pro Stock and fast Bracket engines. Created from 4130 chrome molybdenum thick-wall tubes and constructed as one-piece units, they are available with wall thicknesses of 0.188in or 0.125in and in lengths ranging from 8in to 13.500in long. Pre-formed and centerless ground they are available in a wide variety of profiles, including straight, double taper, full taper and half taper.
With regard to end forms these new 5/8in pushrods are produced with 5/16in or 3/8in ball ends. They are also supplied with a plain radius cup or with a BZ radius cup. These are high load-bearing bronze inserts that overcome galling troubles that occur between the rocker ball and the pushrod's upper cup—an ominous condition perpetuated by the use of extremely lightweight lubricating oils. Moreover Trend is also making the balls and cups available in their latest self-lubricating tool steel.
Case hardened to around Rockwell Rc60 and with multiple heat treatments for extra strength and rigidity, Trend's new 5/8in pushrods are configured with 1-5/8in clearance tapers on each end.