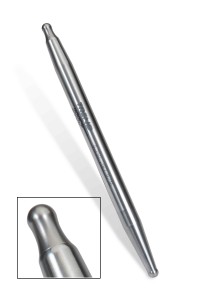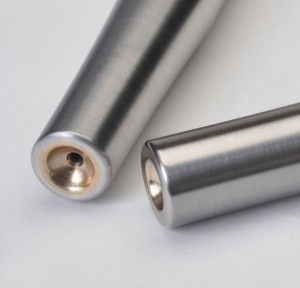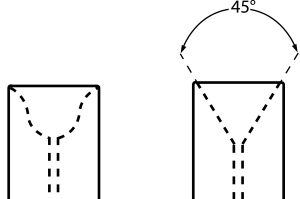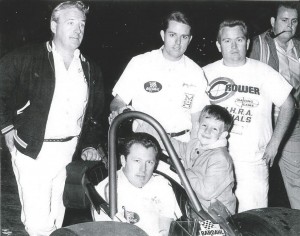 At the Lion's Drag Strip near Long Beach, California circa 1966, engine builder 35-year-old Ed Pink is pictured behind driver Tom "Mongoose" McEwen in Don "The Beachcomber" Johnson's dragster. To Ed's left, stand race car owner Jerry Bivens and engineer Douglas Fischer. Young Tom McEwen Jr. completes the picture (pipe smoker unknown).
Trend Performance has introduced what they believe to be the world's first self-lubricating 5/16in hard-tip competition pushrods.While their lower ends, those that engage the lifter seats, remain unaltered their upper ends now feature self-lubricating tool steel tips hardened to 60Rc. Both upper and lower 5/16in diameter ball ends are formed with a 210-degree radius at the end of a 1-5/8in taper to provide proper operating clearance around the rockers as well as in the lifters and lifter bores.Engineered to overcome degradation troubles on the upper ball of high-revving high-powered engines, these new hard tip pushrods are now available in the following diameters: 7/16in, 1/2in, and 9/16in. Their wall thicknesses are 0.125in or 0.165in; 0.125in or 0.165in or 0.200in; and 0.200in respectively.Prepared in a satin finish over a precision center-less ground surface and laser-etched to the customers' request, Trend's hard tip pushrods are available in any length—usually 6.000 to 13.000 inches.
Trend's hard-tip announcement of their latest ball-ball pushrods follows last year's introduction of their BZ pushrods. By engineering a phosphor-bronze insert in its upper cup, the BZ brought an end to similar galling troubles in ball-cup-style pushrods.
In the 1990's, pushrod wall thicknesses were increased to combat deflection caused by increasing valve spring pressures. Later their outer diameters grew. Today many believe the chief threat to their longevity is caused by deficiencies in modern lightweight lubricating oils. But the reality is that the competition pushrod is battling on a host of hostile fronts.
Four valuable tips to improve valve train performance
1. Pushrods set between lifters and rockers with contact surfaces rougher than 1RA expose the pushrod to potential ruinous abrasion. Always inquire about the surface finishes of the parts that operate in conjunction with your pushrods.
2. Pushrod balls bound in tight cups will eventually fail. Always ensure they have sufficient operating clearance.
3. High point loadings generated by setting a pushrod in a V-cup compared with the more desirable radius cup further impairs the pushrod's longevity.
4. Note: Increased rocker ratios and higher engine revs generate greater stress on pushrods. These factors also increase surface speeds on the ball.
Ed Pink says:
"We spend more time measuring and checking than we do putting the engine together. With pushrods, checking ball-and-seat dimensions is good working practice. It ensures the clearances are correct and everything fits right. Often we apply some machinist's bluing on the ball of the pushrod and check its fit to the rocker arm cup. For years, I have used Trend pushrods and piston pins. I know of none that work better."