Diesel Valve Train Components
Trend Performance -
Diesel Valve Train Components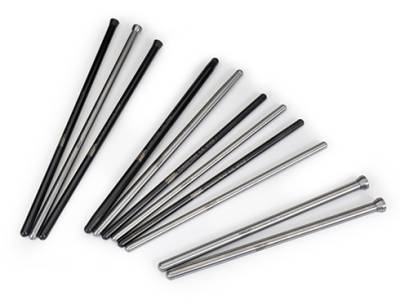 Trend Performance has announced three new series of shelf-stocking pushrods for high performance Cummins, Ford Powerstroke, and GM Duramax diesel engines.
Displaying robust forged cup ends, these are believed to be the first one-piece pushrods to suit Cummins 12v and 24v diesel engines. They are produced from 4130 chrome molybdenum and heat treated to around Rockwell Rc60; their advantage is strength and rigidity. Available in 3/8in diameter with 10mm cup and wall thicknesses of 0.080in or 0.135in., they are designed to handle higher spring pressures and contribute greater resistance to deflection.
For Ford's 6.0L and 6.4L Powerstroke diesels Trend has introduced four new 11/32in pushrods with wall thicknesses of 0.080in and 0.135in. For the larger 7.3L engine, 7/16in diameter with 0.080in wall and 0.165in wall are available. And for GM's Duramax 6.6L diesel engines Trend offers upgraded 7/16in pushrods with 12mm ball and cup ends and 0.080in wall or 0.165in wall.
OEM stock lengths for all three series are now available as shelf-stock items.
Select a Sub-Category